The Place for all Water Fun!
We currently offer paddle boards, kayaks, canoes, row boats, and small sailboat rentals right at the water's edge – no need to rent somewhere else and transport. Getting out on the water has never been so easy or affordable, and going out on the lake for a few hours is always a great family activity!   And check "Lindon Marina" facebook page for special events—Light the Lantern, Movie on the Water and other weekly special events.   (Daily rental (late spring/summer hours everyday from 9 AM to 9PM.)
Row boats
Kayak
Canoe
Paddle boards
Sail boats

We have a large supply of rentals and generally you can just arrive without a reservation. However, if you are a large group (15 or more) you should call beforehand
Fill out this form before coming to rent for a smoother experience! 
https://app.cleverwaiver.com/render/templateByRefId/60d11e9c7671618b6ba6eb94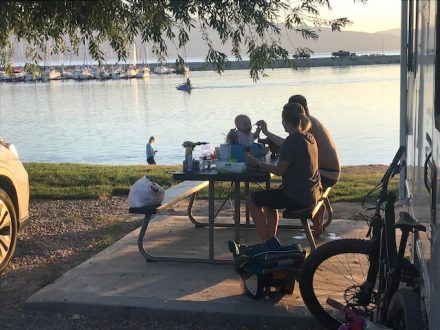 Lake Shore RV Park
New RV Park On Utah Lake Inside Lindon Marina
12 Full Hook ups RV Spots $50 a night/$45 a night if week or more stay (Winter rates: $40 night/$35 per night if week or more stay starting October 15th to March 15th).  NOTE:  Because we are State Park regulated stays are limited to two weeks in a one month period.
17 Partial Hook ups/Electric $30 a night ($25 per night with week stay or more). Each partial hookup space has access to water fill up and dump station.
(RV fees cover RV and one additional car and three persons per RV space–each additional vehicle costs $10 per car that must park in general parking and each person more than three is additional $3 per night)
These RV Spots are right on Utah Lake inside Lindon Marina (Marina Park fee included in RV fee). Camp fee includes access to sand beach, picnic tables, fishing, and sailing. The best and quickest way to reserve is by calling us at 801-980-1104, but you can also apply for a reservation online (see below) BUT still must call to finalize reservation.
Check in 1:00 PM and check out 11 AM.  Campfires allowed only on marina peninsulas and not at your RV/campsite
AGAIN CALL US FOR RESERVATION DIRECTLY AT 801-980-1104–QUICKEST WAY TO RESERVE OR YOUR SPACE
But you can also apply for a reservation by filling out this form! 
Once you complete it we will either call you or you must call us to confirm there is a space for you and then finalize the reservation by payment. 
View Park Map
NOTE:  For more pictures of Lake Shore RV Park go to "lindon marina" facebook page link here:
https://www.facebook.com/LindonMarina/posts/2896225220502965?notif_id=1594363322948359&notif_t=page_post_reaction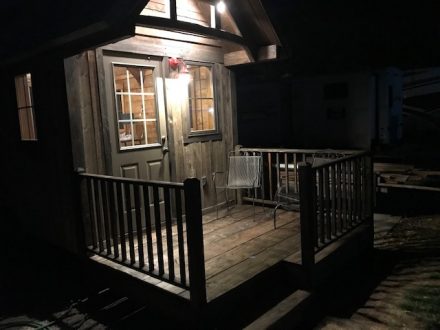 Tiny Home Rentals on the Lake
Now offering overnight or short term stay at our brand new Tiny Homes on the Lake starting  November 1, 2020.
$55 to $95 nightly rates (seasonal adjusted rates); cleaning fee $30 plus tax.  Rent through AIRBNB to check for availability but can call us directly.
Brand new Tiny Home sleeps up to four.  Spectacular view overlooking Utah Lake.  
See "Lindon Marina" facebook page for photos/more details as to Tiny Home Rentals
Sunset Sailing
Charter your own Sunset Evening Sail on a cabined 25 ft. O'Day Sailboats ($180 per couple; $299 Exclusive/$499 for exclusive on 30ft Calypso).  
The O'Day Sailboats can handle up to three couples.  
In 2021, we hope to add the iconic "Mystic" 39 foot classic wooden sailboat to our fleet.  Same boat used in recent Hollywood movie "Benefactor."  Can hold up to four couples–$250 per couple/$500 minimum/$599 exclusive sail.  Call for more information and selective availability.   
To schedule your Sunset Sail or any questions should be directed to Chad Chorniak at 801-427-6815  (Timpanogos Yacht Club).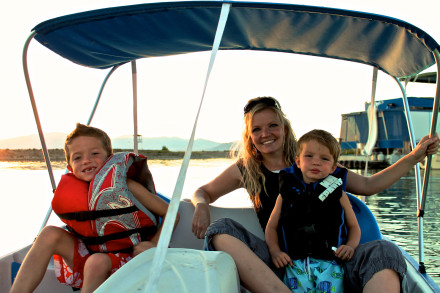 Launch Immediately
Dual boat ramps + ample parking = no waiting
Water access all season long, in high and low water
Plenty of room to maneuver trailers, even on busiest days
Sheltered harbor for smooth launches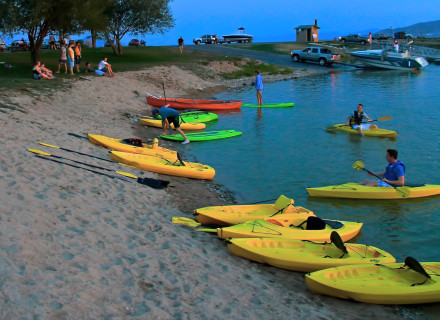 Why haul when you can rent?
Ready for fun anytime, right at the shoreline
We currently offer paddleboard, kayak, canoe, and sailboat rentals right at the water's edge – no need to rent somewhere else and transport. Getting out on the water has never been so easy or affordable, and going out on the lake for a few hours is always a great family activity!  (NOTE:  We have a large supply of rentals: paddleboards, kayaks and canoes, row boats, small sailboats and no need to reserve.  Just show up and one will be available and if not just a very short wait)
Paddleboard
Kayak
Canoe
Row boat
Sail boats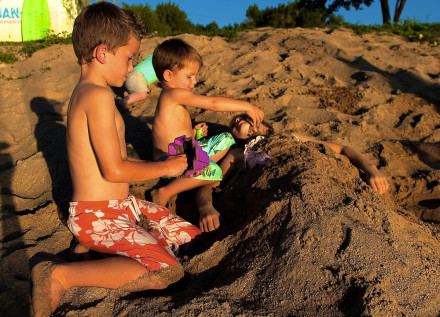 Feel the sand between your toes
Room for the whole family to play, even if you don't want to get wet
Sandy beaches
Grassy parks
Picnic tables
Restrooms
General store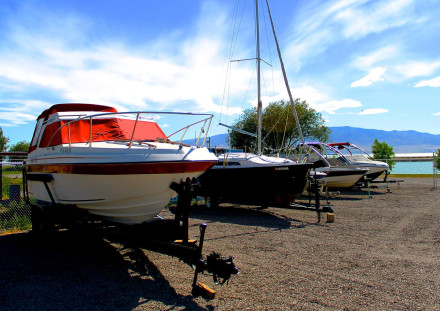 Take back your driveway
Leave your toys with us long-term, close to the action
Is parking your boat or RV in your driveway getting old? Store it here with us! We currently offer 120 outdoor secured dry storage spaces for trailers, boats, RVs, and water toys of all kinds. We can accommodate all shapes and sizes, including extremely large units. We offer month-to-month contracts.  The minimum storage fee is $50 a month no matter the size.  Additional fees for oversized units beyond 25 feet in length ($2 per foot in length).
Trailers
Personal watercraft
RVs
Campers
Boats
Call to see if space is available and pricing:  801-980-1104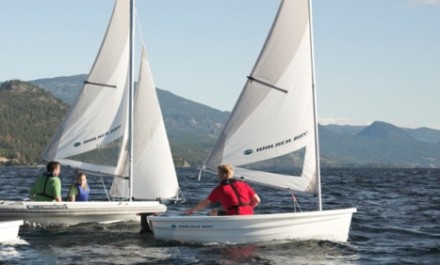 Learn To Sail!
Lindon Marina has Sunfish Sailboats and Walker Bay 10 foot Sail Boats which hold up to 2 or 3 adults each. .
These sailboat require no experience. Cost is $25 first hour and $10 each additional hour.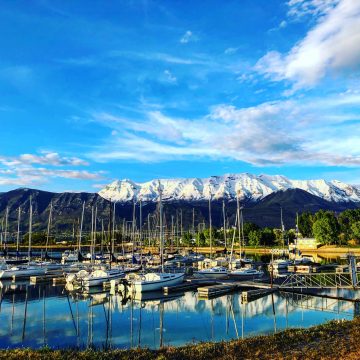 MAKE YOUR HOME ON THE WATER
No need for trailer when you boat lives on the docks
Tired of launching your boat every time you take it out? Lindon Marina now offers 75 convenient slips on our secure dock so that your boat never has to leave the water.
Please call us to check for slip availability
Fee Schedule
Pay at the gate, we take Cards or Cash & Venmo (@lindon-marina)
Season Pass – $100
Camping – Electric only site: $30 Full Hookups (PWS): $50 (Marina has a water fill up and dump site for all campers) Weekly Discounts available–camping limited 14 days per month
Boat Launch – $10 per day
Day Use  – $10 per car
Walk In – $3 per day
Slip Rental – $500/year
Temporary Slip rental: $25 day/night; $100 week; $250 month
Check the forecast
Make sure it's not snowing first, unless you're into ice fishing...
How to get here
Just off the freeway in the north-east corner of Utah Lake
4400 W. Vineyard Road Orem, Utah 84058 (opens in google maps)
From North Driving on I-15 (SLC) —    Head south on I-15; turn off Exit #275 (Pleasant Grove Blvd.) and turn right towards Lake; turn at first left and that road will take you directly to Marina.  
FROM SOUTH DRIVING on 1-15: Take Exit #275 (Pleasant Grove Blvd.) and turn left after exiting and go over the freeway overpass.  Then once over the overpass take the very first left and that road will take you directly the marina.
From (BYU/UVU, Provo, Orem area ) —  Take University Parkway and go past UVU/Freeway and reach Geneva Rd. Turn right heading north till come to 200 South, Lindon.  Turn left on 200 South Lindon go over the overpass and then when at T in road take left and it will take you right to marina
Third option:  Take Geneva Rd. hearing north till you get to 200 South Lindon.  Turn left and go to T in road and turn left and it is only .5 miles from there to Marina
click the map below to view a road map with routes from north and south I-15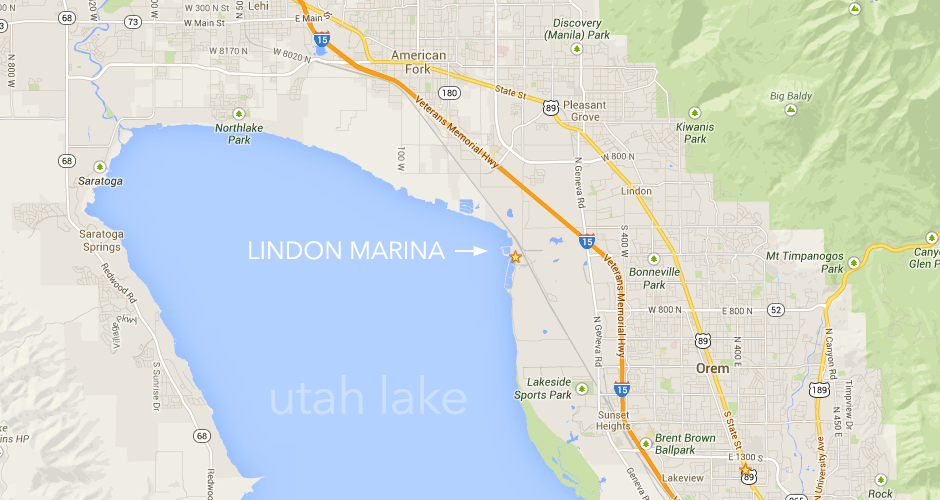 We're here to help
Call for more information or to make reservations